Investors Briefed on Batam Free Trade Zone During October Road Show to New York and Washington – Program Summary

BATAM - January 12, 2005 - A delegation representing the Batam Industrial Development Authority (BIDA) traveled to New York and Washington last October to familiarize investors, analysts, executives, journalists and other targeted individuals about the benefits of locating industrial and service-related facilities within the Batam Island Free Trade Zone (FTZ). Attention was also devoted to infrastructure projects and the potential for tourism within Batam and the Province of Riau Islands in the Republic of Indonesia, where it is located.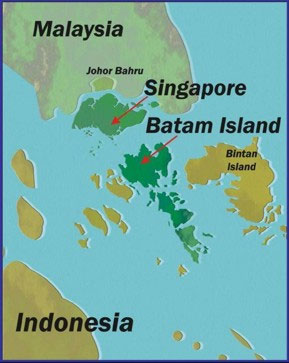 Strategically located on the Indian and Pacific Oceans -- only 12 miles from Singapore -- Batam Island and the Riau archipelago represents one of the most attractive industrial, manufacturing and logistical platforms in the ASEAN region. It is also the second most popular international tourist destination in Indonesia. Due to its Free Trade Zone status, strategic location, low cost structure, skilled work force, and tax and other investment incentives, Batam Island has attracted numerous foreign investors. Prominent names include McDermott International, AT&T, PerkinElmer, Bechtel, Seagate Technology, Babcock & Wilcox, Holiday Inn, Matsushita, Kyocera, Hitachi, Sanyo, Nippon Steel, Hyundai, Sony and Philips. In addition to site development, current investment priorities include wastewater treatment, hospital, medical and educational facilities, and port harbor expansion.

Highlights of Batam Island Free Trade Zone Road Show – October 2004

The Batam Island FTZ Road Show opened on October 26, 2004 with a seminar held at the Indonesian Consulate in New York. It was attended by approximately 50 individuals including representatives of major multinationals such as AIG, Lehman Brothers, Telstra and numerous small to medium-sized enterprises, financial and service firms, real estate developers, journalists, analysts and other individuals with a potential interest in the Batam Island FTZ.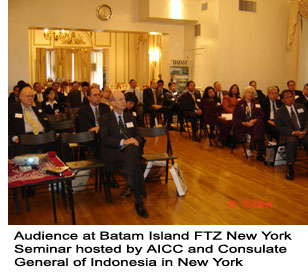 Following opening remarks by Wayne Forrest, President of the American Indonesian Chamber of Commerce (AICC) and Kristio Wahyono, Consul General of the Republic of Indonesia in New York, the audience was presented with an overview of the implications of Indonesia's recent national election, moves toward regional autonomy and other important developments by Former Minister of Trade of the Republic of Indonesia and Indonesian Ambassador to the U.S. Arifin Siregar. Following Mr. Siregar, the audience heard from Bruce Hatton, who spoke about the experience of J. Ray McDermott, which has had a Batam-based facility for well over a decade.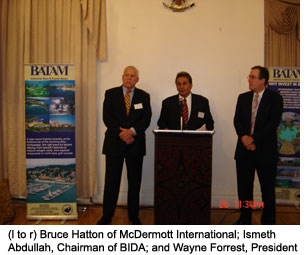 BIDA Chairman and Acting Governor of the Province of Riau Islands Ismeth Abdullah, then briefed the audience, delivering a comprehensive presentation, detailing how Batam was developed, current trends and statistics, the opportunities it presents for direct investment, industrial, tourism and infrastructure development and the benefits companies can obtain from a Batam-based operation. After a question and answer session the morning's presentation concluded with a brief overview on Batam's tourism potential by Alex Eapen, Vice President and Director of the Palm Springs Golf and Beach Resort, a luxury resort and 27 hole course located in Batam.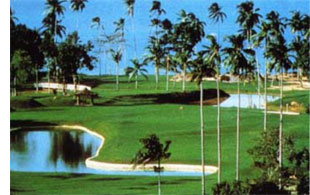 After adjourning for a working lunch and a series of one-on-one meetings with seminar participants and interested journalists, BIDA Chairman Ismeth Abdullah was interviewed by Bloomberg Television concerning the reasons BIDA organized this road show and the attractions that Batam offered to foreign firms and investors.

To view a photo album of Batam's New York Road Show activities, click here.

The next day's activities began with a luncheon meeting hosted by PerkinElmer Fluid Sciences President Robert A. Barrett at the Cosmos Club in Washington, D.C. This was followed by an afternoon presentation, following a similar agenda as the New York event, hosted by The United States – Indonesia Society (USINDO). After an introduction by USINDO President Alphonse F. La Porta, BIDA Chairman Ismeth Abdullah provided a comprehensive briefing on the progress made in developing Batam Island as an entrepot manufacturing center, which will become all the more important in light of the recent approval by Parliament (DPR) granting free trade status to the island.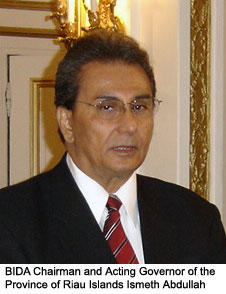 The Chairman also called attention to the impressive improvements in the island group's infrastructure, together with improved and positive relations with Singapore. The Chairman's presentation was followed by an appraisal of the economic prospects for the new administration of President Susilo Bambang Yudhoyono, including measures for increasing national GDP growth to 6-7%, improvements in the regulatory regime, and formation of the new cabinet economic team. It was also noted that the macro-economic stability achieved in the past three years, coupled with forecasts for higher economic growth, will also heighten the role to be played by Batam's continued development as an industrial and trade center. This event was attended by more than 30 people, including representatives of Freeport McMoRan, CAPGroup, Mitsubishi Corporation, SAIC, The Kenan Institute, U.S. Department of State, U.S. Department of the Treasury, the Department of Homeland Security and other organizations with an interest in Indonesia and the Batam project.

To view a photo album of Batam's Washington Road Show activities, click here.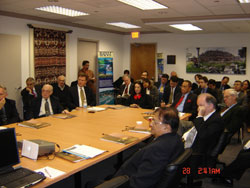 "We are extremely pleased by the high level of interest and warm reception that we encountered during our first road show visit to the United States last month" noted BIDA Chairman and Acting Governor of the Province of Riau Islands Ismeth Abdullah. "As perhaps the most competitive and best located investment location in ASEAN, Batam offers a wealth of advantages and benefits to the foreign investor. This is demonstrated by the 700+ companies from around the world that have already established operations on the island – some of whom have been here since the FTZ was first established in the 1970s. We look forward to following-up on the many inquiries generated during our visit and to developing many more relationships with U.S. companies and investors in the years to come."

For additional information on the Batam Island Free Trade Zone, please contact:

KWR International, Inc.
Attn: Keith Rabin, President
Tel: 212/532-3005
Fax: 212/685-2413
E-mail: batam@kwrintl.com

Or access the information included below:

This material is published and disseminated by KWR International, Inc., which is registered under the Foreign Agents Registration Act as an agent of the Batam Industrial Development Authority. It is filed with the U.S. Department of Justice where the required registration statement is available for public inspection. Registration does not indicate approval of the contents of this material by the United States Government.

---


The preceeding information is provided by:
KWR International, Inc.
New York, NY 10023
Phone: +1.212.532.3005
Fax: +1.212.685.2413
E-mail:
kwrintl@kwrintl.com
Website content © 2005 KWR International